_

Evan Farmer? What kind of name is that? He may not be Mr. June on the cover of the swimsuit calendar but we here think he's pretty sweet!:::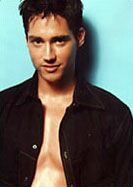 Hi, ya boy. Ok, alright. Hmm, what should I say? Uh, is it the belly? Nah, not much of a treasure trail of hair there or visible. Well as far as I see, nice red strap getup!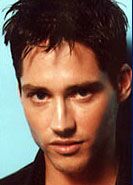 I don't know if he purposely put this look but if he could do anymore, I'd cringe and shake! Well he has a pretty hot .... to consider.
Hey hot and nice little brunette boy, if you're in need, I can lend ya a necklace of ANY kind. Sure it will fit your mood or moods!

I saw a candid pic of him which wasn't that good to my liking but you what, I just think something about him is awesome. Simple.

Actually he's a singer so no wonder he's got that pretty boy sorta hottie look and THAT hair!!! Pretty good voice for 2geTher.

fan: "I think you are so hott!! I don't think it matters how old someone is. I think you are very nice and smart."

---

GEORGE EADS...

Oh, what the heck, someone that also is black haired and only a pinch looks like Evan Farmer....

here's my boyish bro in the bath tub.

.......boyish boy with his certain thing


_